Seljalandsfoss is one of the most-photographed waterfalls in south Iceland. The slippery wet path to the back of it gives an unusual perspective. Pop a 10mm fish-eye lens on to your camera and the result is remarkable. The setting sun lights up the wall behind this stunning cascade only a few times in the year. October, when this shot was taken, is a good time to try.
Include a person in your landscape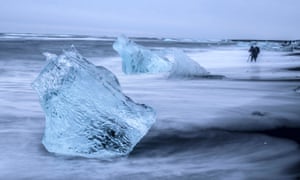 This moody, dark winter light gives a sense of drama to the ice by bringing out its fine texture and colour. The photographer in the background appears to sink into the waves, giving an illusion of being almost as one with his subject. This effect is achieved with the camera on a tripod, and a three-second exposure with a six-stop ND filter.
Use a local guide