Get up early
Getting up early ensures that you have time to get to your chosen location and set up your equipment before the action starts. At Picos de Europa (pictured above) we had the tail end of a storm causing some dramatic clouds and fiery colour. The actual appearance of the sun in this case is not important; the effect that it has on the clouds is where the drama is. It's a good idea to pinpoint the perfect time to shoot by using a smartphone app such as Sun Seeker to determine sunrise and sunset times for your exact location.
Get higher for an aerial cityscape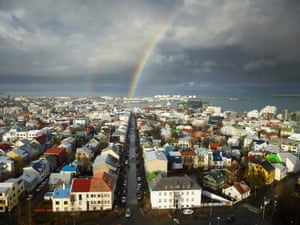 Low winter light and a moody black sky light up the famous coloured houses of Reykjavik. Taken from the bell tower of Reykjavik's cathedral, Hallgrímskirkja, this is a great "set the scene" shot for a travel series. It was taken with an old point-and-shoot, and slightly underexposed to increase the drama of the sky and make the colourful houses stand out.
Try an unusual angle